Here's a few real live (verifiable) testimonials taken from Amazon, Google Play and Ebay:
Five Stars - Amazon.co.uk 5 star *****
The only book that works for me.
Buy this course! It's very little money, very well spent - Amazon.ca 5 star *****
This is a great book for beginner's (like myself), and also useful for more advanced players who want to increase their theory knowledge and improve their playing approach to the keyboard (or just have chord and scale reference diagrams). It starts by giving the best set of fingering exercises and playing approach to the piano/keyboard that I have seen (and I've checked out many other books). It then fills you in on music notation, theory, chord construction and fingering, chord sequences (using the Circle of Fifths), and scale and arpeggio sequences, all done in both standard notation and keyboard fingering display. It includes a complete dictionary of scales and chords in standard notation and keyboard fingering view. Also included are 10 song lessons in standard notation, each with performance notes. The author, Martin Woodward, even includes a free download of a PDF version of the Kindle book, which allows you to both print it and enlarge the diagrams for easier viewing while playing. The PDF accessibility is a great feature and should be offered by all Kindle books. I have purchased several other Kindle for PC music books, and it's really frustrating not to be able to print the material or enlarge the diagrams (I'm 63, and even with my glasses on, have difficulty reading diagrams from many other Kindle books). The support is also excellent. I know, because I had an issue downloading the PDF on Windows 8 64-bit and received support from the author by email response to my query from his web site within hours. The issue was easily resolved (and was my mistake-no problem with the PDF) and I was able to download and print the PDF. This course is ridiculously cheap and with the PDF included is an excellent value. Highly recommended!
---------------
Absolute Beginner - Amazon.co.uk 5 star *****
I am an absolute beginner and have been looking at various teach yourself books on the electronic keyboard/piano and in my opinion this is by far the best.
The key learning points are clearly set out and the advice and exercises are simple,non-technical and jargon-free. The associated PDF version is particularly helpful. Highly recommended.
---------------
Couldn't agree more. If you are looking for a complete beginners guide to learn keyboard this is the book for you.
Didn't get my copy from Amazon, but from Martin's website, gonkmusic.com.
---------------
Keyboard Brilliant ! - Amazon.co.uk 5 star *****
I am absolutely over the moon about this book!! I also downloaded the free book so I could use the separate pages instead of mounting my kindle on the keyboard lol although there r something like 120 pages it was well worth the effort ! cannot say I have found a fault with this so far lol I will be playing in front of an audience at Christmas ! my family lol ty for an excellent book xx
---------------
Very Helpful - Amazon.com.au 5 star *****
A great and inexpensive book. Easy to understand very helpful well worth the small purchase price.
---------------
Keyboard or Piano in a month - Amazon.com 5 star *****
The author describes things in a clear language, right for me as a beginner. I would have loved to have some more examples.
As a medium for learning / reading it while on the keyboard though is a bit impractical.
The Kindle screen is too small to be able to read the notes, so the book can't really be used for practice.
I still love it as a theory book, although I doubt my ability to do it in a month… Highly recommended.
---------------
My comment about the above:
Formatting any music book for an eBook reader is nigh on impossible and believe me I've worked long and hard at this. Let's face it, I'm limited by the size of the screen!
And this is why all my eBook sales (on Kindle etc.) also receive a free pdf download link enabling them to print out and read clearly the pages that they require. - But obviously the coil bound printed version is by far the best!
---------------
Really Good - Amazon.co.uk 5 star *****
Bought this for my granddaughter and am pleased to say she now uses two hands and we recognize the tunes. She loves it.
---------------
Easy to Understand - Amazon.com 5 star *****
This is a good book for beginners.
---------------
Google Play Review - 5 star *****
I've read quite a few books on how to play piano, and this is by far the best I've ever read. Just like Mr Woodward's other books it's a very easy read. Chocked full of information that you won't find in other books. I am going to purchase Mr Woodward's books, all of them . I am going to recommend them to friends and family members. My only regret is that I didn't find them sooner. Best regards Steve
---------------
Google Play Review - 5 star *****
Highly recommended! A great read and has been invaluable for me to improve my skills with the correct practice this book guides you bit by bit building up your knowledge and understanding. All for a great price too! Will be purchasing your other books in the future. Gareth.
---------------
Google Play Review - 5 star *****
Awesome Great book for the beginner, like me. Excellent customer service, can tell Martin has a passion for what he is doing. Thanks! Marvin
---------------
Google Play Review - 5 star *****
The best piano of all Thanks for this and now I know how to play all music I want!!!!!!! Michelle
---------------
First class & fast service.Very impressed with senders knowledge.A1++++++
---------------
Very prompt delivery, top notch product!!!
---------------
Good bargain and comm,quick delivery,Top ebayer seller,Thanks!
---------------
Great communication, really quick postage and the book looks great, cheers!
---------------
Delighted with my purchase. Top Ebayer A+++
---------------
Excellent service, rapid, accurate. product better than expected Seller to keep
---------------
Very happy thank you!!!!!!!!!!!!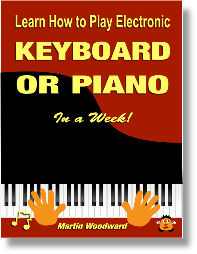 Learn Electronic Keyboard or Piano NOW! It's Easy and Fun!